Director's Message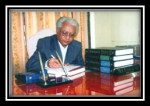 The mission of Sir Sayyed College is to provide education to the deprived classes, especially minority people. The institution strives hard to cater to the educational advancement of the socially & economically backward class. The institution aims to enable these underprivileged classes keep pace with the socio-economic & cultural changes taking place all over the world.

1: Contributing to National Development: Sir Sayyed College of Arts, Commerce & Science is foremost to adapt to changes, while pursuing avowed goals & objectives it has set forth for itself. Contributing to national development has always been a goal of the institution. Serving the cause of social justice, ensuring equity, increasing access to higher education, focusing on womens education are few ways of contributing to National development. The institution realizes that education alone can bring progress to minority, women & the nation at large.
2: Fostering Global Competencies among Students: The spiraling development at the global level warrants skill development of the students on par with their counterparts elsewhere. In this age of modernization & globalization, the need to develop skilled human resource of high caliber is imperative. The College has been working in the direction of building competencies. It is keeping it self-abreast with the changing times & taking all possible efforts to equip its students to meet the challenges of globalization. Introduction of job oriented Courses like B.Sc. Computer Science, BBA, M.A. (Eng) MA (Arabic), MA Urdu; M.Com & M.Sc. (Chem) help the students face the competitive world.
3: Inculcating Value System among Students: The College feels that in a country like ours with cultural economical & environmental realities at local, national & international levels. Students Council & NSS unit strive hard to develop values like truth & righteous conduct, Liberty, equality, social justice & secularism as emphasized in the various policy documents of the country, among the students. The Mgt, by introducing Islamic studies as a subject, has made a significant contribution towards inculcating moral & ethical values among students.
4: Promoting the Use of Technology: Keeping pace with the development, the college has enriched the learning experiences of the students with the recent technological development. Conscious efforts are being made to invest in hardware & train the faculty to make optimum use of ICT.I am Sure that the college provides conducive atmosphere to the students and students will enjoy learning here & appreciate the efforts of the institution.
Prof. Mohd Tilawat Ali
Director Administration